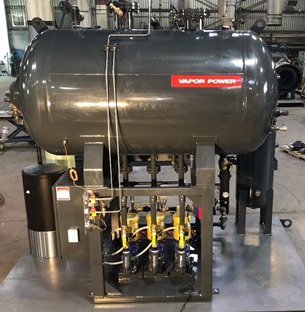 Why Use a Spray Deaerator?
Vapor Power's pressurized spray deaerators will reduce the oxygen level to the .005 cc/liter or less and carbon dioxide to zero. A deaerator consists of a pressure vessel in which water and steam are mixed with controlled velocities and the rapid removal of gases results when the liquid is sprayed in thin films and intensely scrubbed by the incoming steam. This raises the water temperature, thereby liberating the dissolved, non-condensable gases; and the water is then considered free from corrosive gases.
Their removal by the deaerator protects the boiler, feed pumps, and the entire feedwater system from the damaging effects of corrosion. A further benefit is simultaneous preheating of the boiler feedwater which reduces the thermal shock on downstream piping and the boiler. Spray deaerators can provide an added performance as well as help maximize the capital investment of the boiler system resulting in a higher return on investment (ROI) for the owner.